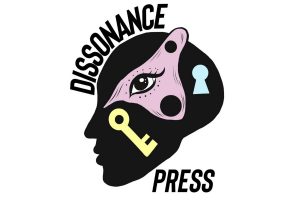 Dissonance Press is a workspace and test platform for writing projects that subvert or repurpose how literature is made and read.
Writing a book is a bit like buying a house or starting a business–it requires a huge investment of capital. With houses and businesses, there are installment plans, partnership options, venture capital. However, literature, as currently made and read, gives writers few, if any, of these options.  Manuscripts are usually published whole. Authors are expected to work alone. Especially for a new writer, support comes after the book appears, not before. This means that writers must front their costs, alone, until the complete work sees print.
This is like a would-be homeowner not being able to have co-signers, nor get a loan, until after they buy the house.
Dissonance Press exists to  bring collective ownerships, installments, advance investment to the publishing world. Our goal is to allow women, queer, trans, and POC writers to pursue the writer's life, in ways that better work with their day-to-days.
We seek work that actively challenges the perception of the author as solitary genius, in favor of work that stresses collaboration, serialization, and creation of shared narrative. We also produce works in overlooked genres, such as prayer books, photo albums, quilts, cookbooks and letters, that help uncover the ingenuity and brilliance of writers whose cultural, religious, economic, and social positions made it difficult or impossible to create work within traditional literary forms.
By doing so, we hope to foster modes of writing that creatively respond to expectations, limitations, and exclusions of the literary machine. For more info, please visit Dissonance Press.