APRIL 16–Keynote for the Tri-College Asian Student Conference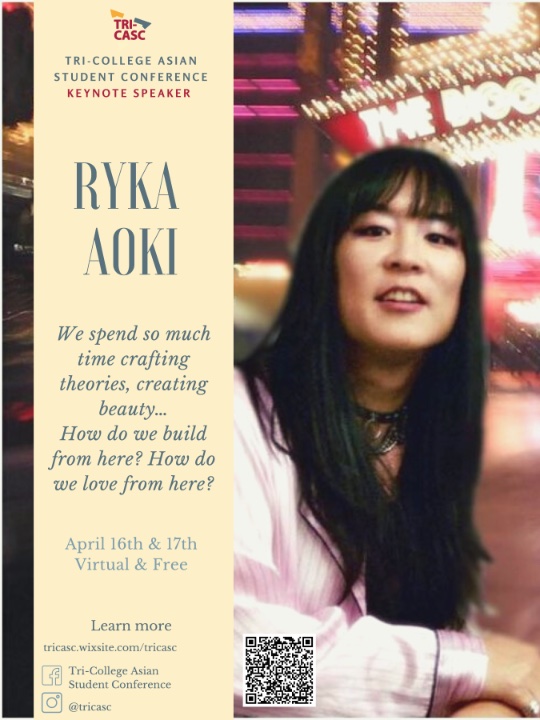 I am honored beyond belief to be given the opportunity to speak to these students and keynote their conference. It's been such a difficult year for those of us in the Asian American community. Even that as I'm writing this, there was another video of an Asian elder being kicked on the street. When we are artists and scholars and thinkers, we spend so much time crafting theories, creating beauty… to be an artist or an academic or to work for a future is to believe in that future. How do we go forward from here? How do we build from here? How do we believe from here? How do we love from here? I will be sharing some of my thoughts, and I hope that they will add in some small way to the brilliance of these students.
——–
The Tri-College Asian Student Conference, Tri-CASC, is a conference organized by students from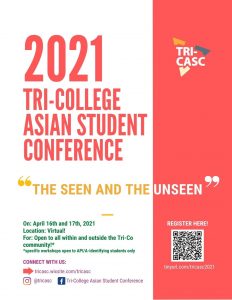 Bryn Mawr, Haverford, and Swarthmore Colleges, the three liberal arts colleges that constitute the Tri-College Consortium in Pennsylvania.
Our second annual conference, "The Seen and Unseen," aims to continue the ongoing dialogue around the Asian, Pacific Islander, Asian American, and Pacific Islander American (API/A) identities. Tri-CASC 2021 serves as a forum in which we ask ourselves how API/A identities are both hyper visible and invisible. By examining how we perceive ourselves, how others perceive us, and how the broader structures in which we are placed influence us, we encourage attendees to reflect on the ways that our experiences and history influence our narratives. We hope to nurture the community healing that is essential to our liberation from histories of oppression and strive to create a framework that allows for multifaceted intersectional conversations that aim to dismantle social constructions so that we may redefine our own identities.