Tor Con! <3 Twice the Panels for Twice the Fun!
June 10 @ 7:00 pm

-

June 13 @ 8:00 pm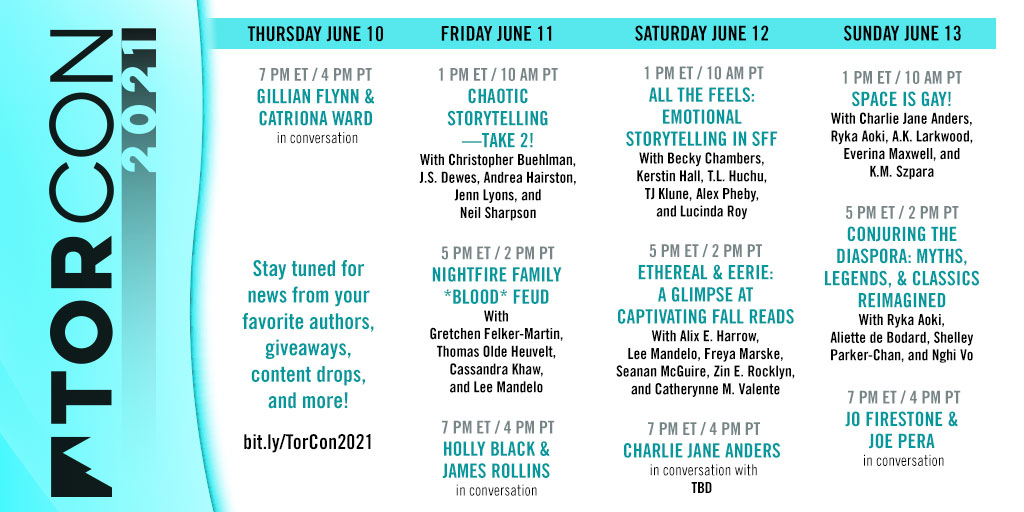 Tom Doherty Associates is excited to announce our second annual TorCon! This virtual convention brings all the fun of panels directly to the fans. From Thursday, June 10th through Sunday, June 13th, Tor, Tordotcom Publishing, Tor Teen, and Nightfire Books are presenting a full programming slate featuring ten panels,  over thirty-five guests, content reveals, and more ways to stay home while still geeking out!
Hi All,
I'm going to be taking part in two panels, both on Sunday June 13! 🙂
1 PM ET/10 AM PT: Space is Gay!
Only two things are infinite: Space and Gay. However, when it comes to SFF, the amount of spaces that can be queered is EVEN! MORE! INFINITE! Join Charlie Jane Anders (Victories Greater Than Death), Ryka Aoki (Light From Uncommon Stars), A.K. Larkwood (The Unspoken Name), Everina Maxwell (Winter's Orbit), and moderator K.M. Szpara (First, Become Ashes) as they discuss queer science fiction spaces, extraterrestrial OTPs, and how in space, no one can hear your gay pining. Attendees can enter for a chance to win one of Tor's limited edition Space is Gay pins.
5 PM ET/2 PM PT: Conjuring the Diaspora: Myths, Legends, and Classics Reimagined
Join authors Ryka Aoki (Light From Uncommon Stars), Aliette de Bodard (Fireheart Tiger), Shelley Parker-Chan (She Who Became the Sun), and Nghi Vo (The Chosen and the Beautiful) for a discussion of how the Asian diaspora intersects with storytelling in the speculative fiction space. This panel is co-hosted with the Bronx Book Festival.
Full lineup here:
Stay Home. Geek Out. Again. Announcing the TorCon 2021 Schedule of Events