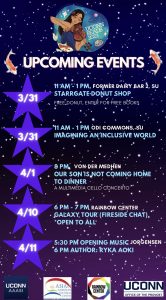 Hi Everyone!
Next week, I will be at UConn!
I was told last year that the UConn Reads selection for academic year 2022-2023 is Light From Uncommon Stars. 
I am beyond thrilled! I am very much looking forward to meeting folks, chatting about the worlds that we can imagine and even sharing thoughts on donuts and music. 😀
When I first set out to write Light From Uncommon Stars, in some ways it was a message in a bottle. I did not know who would receive it–I wondered who might read my words and visit my worlds–then maybe recognize something of themselves, and maybe feel a little closer to their own goals and dreams.
That my work has reached so many readers is both humbling and gratifying.
Thank you.
Web site and Newsletter Update
I have not posted much over the past few months as I was recovering from my mother's passing, and then finishing the first draft of the next novel.
Well, I just turned in the rough draft of my next book to my editor, the amazing Lindsey Hall–and I am super excited at how it turned out! But I am also soooooo happy to have finished it. Of course the real work is ahead, but a girl can feel a sense of accomplishment, can't she?
Anyway, now that we're done with that, I hope to be posting more soon! I am cross-posting this on my web site, as well as my  newsletter Rykaworld! Thank you so much, everyone!
Much love,
Ryka