This past Spring, I returned to my MFA Program to read and answer questions. This was one of the most meaningful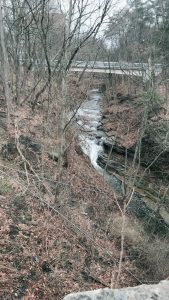 readings of my life. After leaving Cornell, my life did not exactly follow the path I would have guessed. But I somehow kept writing. And, as it always has, writing sustained me. I am so grateful to Cornell–it was a place that I could reinvent myself.  Cornell was not always the perfect place–but for me, it was a place of ideas and open minds. Sometimes it was even gentle.
The trip was wonderful–and it was good to see old friends and mentors. I am still unpacking my feelings from the trip. Thank you, Bob, Ken, Phyllis, and Archie. Thank you to Helena and Masha and Lynn in Goldwin-Smith. Thank you to Ely Shipley, and Helen Boyd, who shared this very special event. <3 Ryka
ps–and there is nothing finer than seeing your picture next to the same Vietnamese restaurant you went to as a student, homesick for rice and a taste approximating home.