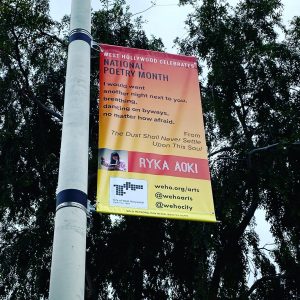 Um…gosh…I'm up on banners. One does not ever expect this… I've still not gotten out to see them –but this weekend for sure! Thank you so much to the City of West Hollywood for your ongoing support of poetry.
Press release from the City of West Hollywood: The City of West Hollywood will celebrate National Poetry Month in April with a variety of events and exhibitions honoring poets and art of poetry.
Throughout the month of April, the City of West Hollywood will honor living poets by featuring selections of their poetry on street pole banners along Santa Monica Boulevard. Currently there are 43 poets honored, and each year the West Hollywood City Poet Laureate selects two additional poets to honor. This year's honorees are Ryka Aoki and Tommy Pico, with an additional banner honoring City Poet Laureate Brian Sonia-Wallace also being added this year.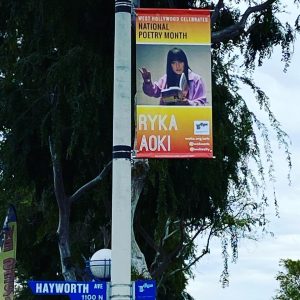 Ryka Aoki is author of Seasonal Velocities, He Mele a Hilo (A Hilo Song), Why Dust Shall Never Settle Upon This Soul, The Great Space Adventure, and the forthcoming Light from Uncommon Stars. She is a two-time Lambda Award finalist, and winner of the Eli Coppola Chapbook Contest, the Corson-Bishop Poetry Prize, and a University Award from the
Academy of American Poets. Aoki is also the founder of the International Transgender Martial Arts Alliance, and Executive Director of Dissonance Press and The After School programs at Beyond Baroque Literary Arts Center, in Venice, California.
Tommy "Teebs" Pico is author of the books IRL, Nature Poem, Junk, and Feed. Originally from the Viejas Indian reservation of the Kumeyaay nation, he now splits his time between Los Angeles and Brooklyn. He co-curates the reading series Poets with Attitude, is poetry editor at Catapult Magazine, writes on the FX show Reservation Dogs, and is a contributing editor at Literary Hub.